Online Solar Business Training
Our course is designed to assist you how you can start your own solar business, no matter what is your profile!
With Lifetime access of course, boost your career in solar industry.
Why You Need SAITECH
Saitech helps you to start your own solar business. Solar industry is growing and we are the way to achive your goal to become a successful solar expert.
Online Certified Course
No prior experience or background required to join this training program. This course is for all those who wants to start solar business.
Lifetime Course Access
One time pay 4999Rs. & Get lifetime access of course. Also 24/7 customer support & career guidence.
27 Online Prerecorded Lectures
You will learn step by step from types of solar power plant to solar power plant installation in detail.
Quick & Easy Process With Best Features
We are no. 1 solar training institute in terms of trained participants throughout India.
Responsive Layout
Compatible web design to all devices, easy to handel design.
Deep knowledge
All lectures are recorded by Germen Certified Solar Expert with deep knowledge.
Friendly online support
Feel free to ask your query, our technical support team will assist you.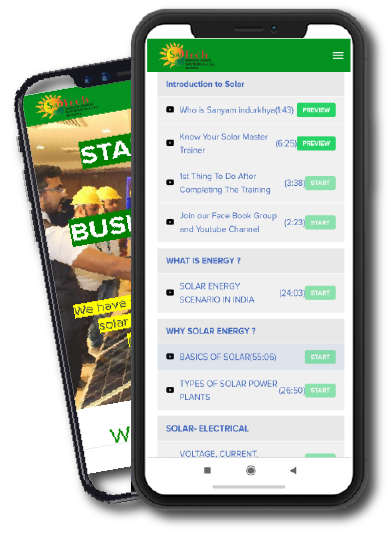 Free Solar updates
To our students we upload videos on youtube with new updates about solar industry.
Solar Practical training
After completion of online training students can also join our 5days practical training.
Power Plant Installation
we also provide rooftop power plant installation service at limited areas.
Testimonials What Clients Say
Mr Sanyam of Sai Solar has given best platform for newcomers to the Solar business, he has a great knowledge about Solar and provided all small small details which are very important points in his training. Mr. Sanyam Sir is doing a great job.
I have taken Solar Training from Saitech and I am very much satisfy from contents of training and get valuable knowledge related to Solar policy. The faculty are very much knowledgeable for related subject and clear all my concept related to Solar.
This is great opportunity to trained from Saitech Energy on solar business and start the business. Mr Sanyam Is great solar trainer he have the detail knowledge and his technics are unique for practical and very helpfull.
Frequently Asked Queries
Efficiently productivate reliable paradigms before ubiquitous models. Continually utilize frictionless expertise whereas tactical relationships. Still have questions? Contact us
Looking for a excellent Trainer?
You are at right place.
Get Directions
---
Our Headquarter
EMS House, 9, Ram Gopal Maheshwari Marg, Zone-I, Maharana Pratap Nagar, Bhopal, Madhya Pradesh 462011
Phone: +91 096855 80822
Email: saitech471@gmail.com