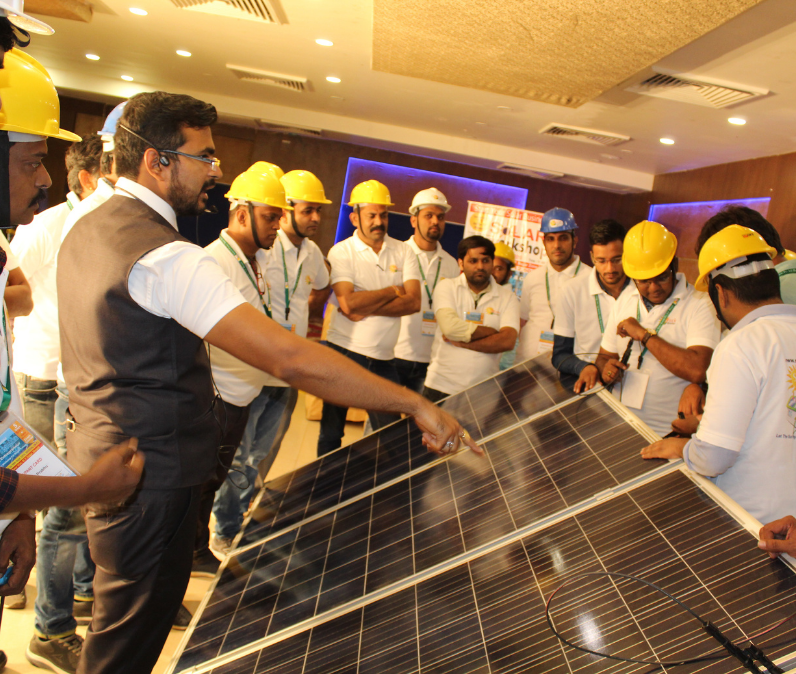 Who We Are
Saitech worked hard in the solar industry and now it's one of the best leading Solar Solution companies in India located in Bhopal.
Saitech installed commercial and residential solar power plants in Madhya Pradesh. But our aim is to install Solar System at each and every roof of India. So, for that, we have started solar business training for the people who want to start their own solar business. And the result is, from the corners of India peoples are learning online and offline from us and starting a solar business. At Saitech we offer services: Rooftop Solar Power Plant Installation, Solar Water Heater Installation, and EPC Kit. With the best quality in service, we are dedicated to Solar Energy.
Our Solar Mission
Being a young entrepreneur Mr. Sanyam Indurkhya started their solar industry in 2017 and aimed to install a solar power plant at every roof of Bhopal.
To achieve their target the whole team is working hard and installed 500+ solar power plants in commercial and residential buildings. Solar panel installation in the rooftop is not that easy but with advanced solar technology, we made it. Every day the energy requirement is increasing and the sun is the one and only source of unlimited energy. That's why we are taking a step towards solar energy. This reduces dependencies on fossil fuels and this is good for the country. Also, with this, the common man will also get relief from an expensive electricity bill. The mission is to make our environment green, clean and for the relief, in high electricity bill, we are dedicated to installing a solar power plant at all the rooftop of India in 2022.
Why We Are Best
We ensure that all the clients of Saitech are happy with its service and we try to deliver the best possible services to them.
Our mentors are dedicated to their work, they are experts, experience, and a leader in Solar Business. The secret of our success is our 'Quality'. Best in installation, best in price, and also used only the best kit in installation. Our solar panels carry years of warranty. We have installed solar panels at commercial buildings, residential buildings, hotels, schools, colleges, hospitals, etc. Also, we have installed a solar water heater at the rooftop of the residential buildings.
Cost-Effective & Profitable
Installing a Solar Power Plant is a one-time investment with lifetime profit.
One of the most important advantages of rooftop solar panels is that they will be installed on any sort of roof. So, people don't get to vacate a land or invest in buying additional land to line up rooftop solar panels. Furthermore, the panels offer protection to the roof of the building during which they're installed. The chief factor that accentuates the importance of rooftop solar panels is that they require very little maintenance. they are available with a service life of over 20 years if maintained properly. However, the power shortage in India is fast reducing, so we are using alternatives like diesel generators. These options have harmful effects on the environment. In addition, electricity prices fluctuate from time to time. In such a scenario, solar power is a reasonable source of electricity. Since rooftop solar panels harness the facility of the sun to get electricity, they're eco-friendly. Furthermore, their cost of operation is additionally stable. Also, the government encourages peoples who are adopting solar energy and offers tax credits as a subsidy.